Evan L.
Celebrity Endorsement Scorecard; New York Times Double Endorsement
Share Dem Primary Tracker 2020
Senators During Impeachment: No Iowa
The rules for senators at the Impeachment trial are firm: six days a week in the Senate chamber, no cellphones, no talking.
In Iowa, where the caucuses are two weeks away, the four leading contenders are locked in a dead-heat race. That means no in-person campaigning for Amy Klobuchar, Elizabeth Warren, Bernie Sanders, and Michael Bennet.
The process is supposed to be wrapped up by the State of the Union address on Feb. 4, the day after the Iowa caucuses. But top Senate Republicans have indicated that they expect the trial could easily extend past then, running into the New Hampshire primary and maybe even beyond if the Senate votes to call witnesses. This could be a boon for Joe Biden, Pete Buttigieg, or Andrew Yang - none of whom need to report to the chamber over the next fortnight and now can shake hands and kiss babies in Iowa.
Celebrity Endorsement Scorecard
We've reached that point in campaign season where the celebrity endorsements are coming in fast and furious. Just last week, Mandy Moore hitched her wagon to former Mayor Pete, and Dave Chappelle publicly announced himself as a member of Yang Gang.
George R.R. Martin, Michelle Kwan, and Sean Patrick Thomas are all supporting Joe Biden. Elizabeth Warren's endorsers include John Legend, Chrissy Teigen, Megan Rapinoe, Scarlett Johansson, Jonathan Van Ness, Melissa Etheridge, Martin Sheen, Rosie O'Donnell. And Bernie Sanders' list might be the most impressive of all: Cardi B, Ariana Grande, Emily Ratajkowski, Susan Sarandon, Chloë Sevigny, Jack Nicholson, Danny Glover, Sarah Silverman, Danny DeVito, Lizzo, John Cusack, Mark Ruffalo, Justin Long, Michael Moore, Shailene Woodley.
This non-exhaustive list from Slate gives more weight to people who made statements or social media posts to support someone as opposed to just donating to their campaigns (though it mentions some of those), because celebrities play fast and loose with their money and sometimes give to multiple candidates.
NYT backs Klobuchar AND Warren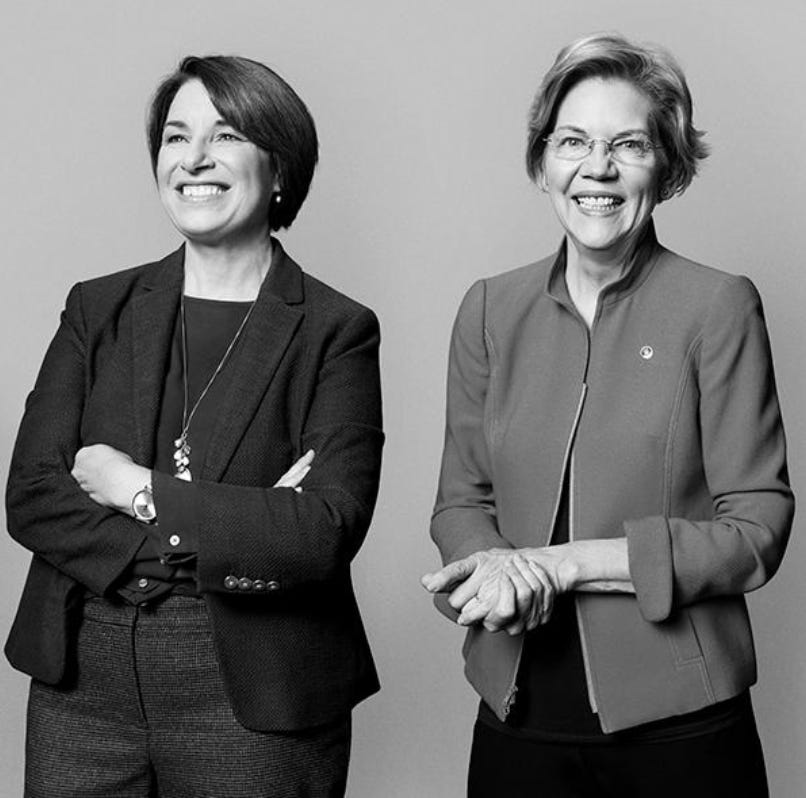 The New York Times' double-endorsement of Elizabeth Warren & Amy Klobuchar was unprecedented, and some say non-committal.
Dem Primary Tracker 2020 feels that the 'between the lines' here is that the New York Times feels that Elizabeth Warren may be the best candidate, though unlikely to win the general election.
Accordingly, though Amy Klobuchar is a dark horse in the polling, her centrism and undefeated record may uniquely position her to defeat Trump in the November 3 election. We think many people have Klobuchar 'on their list,' likely in 4th or 5th, and this may provide the boost needed to help push her through the Primaries.
The Poll of Polls
Polling update from The Economist Average of Polls. Joe Biden remains in the lead, with Bernie Sanders & Elizabeth Warren closely behind. Buttigieg and Michael Bloomberg round out the top five.
Bernie Surging
Bernie Sanders' standing among voters nationwide surged, with a new CNN poll conducted by SSRS showing that the Vermont senator has joined Joe Biden at the top of the Democratic presidential field.
Among Democrats or Democratic-leaning independents who are registered to vote, 27 percent said they would support Sanders for the Democratic nomination, compared with Biden polling at 24 percent. The difference between the two candidates falls within the margin of error, so there is no clear leader in the poll.
DAYS UNTIL 2020 PRESIDENTIAL ELECTION: 283
DPT 2020 ARCHIVES
January 17 (Booker Drops Out; Chappelle Backs Yang)
January 10 (Judge Judy's First Endorsement; Delegate Projection)
January 3(Happy New Year: Quick Recap on the Primary)
December 19 (Pelosi's Gambit Might be Genius)
December 5(Kamala Out! Bernie Ahead in California)
November 27 (Let's Talk Turkey)
November 20 (Reality Check)
November 8 (Bloomberg Enters the Race)
November 3 (One Year from Today: Road to White House)
October 25 (Who is still in the race and why?)
October 18 (AOC endorses Bernie, Debate IV Recap)
October 11 (Warren *almost* catches Biden; Hillary seeking Rematch?)
October 3 (Bernie's Heart)
September 27 (Impeachment: Candidates In Their Own Words)
September 19 (Polls, Polls, Polls)
September 13 (Debate 3 Power Rankings)
September 10 (Campaign Swag/Giveaway)
September 5 (Iowa Five Months Out)
August 29 (Back to School/Millennials + Gen Z)
August 22 (Inslee Drops Out; Steyer Spends Big)
August 15 (Gun Control Issue)
August 8 (The Impeachment Issue)
August 1 (Debates, Round 2)
July 25 (The Social Media Issue)
July 18 (The Fundraising Issue)
July 11 (Steyer In, Swalwell Out)
July 4 (The Ancestry Issue)
June 27 (Debates: Night 1 Power Rankings, Night 2 Preview)
June 20 (The Debate Issue)
We genuinely appreciate you reading Dem Primary Tracker 2020. You can also 'like' our page on Facebook and follow us on Twitter & Instagram.