Evan L.
Judge Judy's First Endorsement; Delegate Projection
The Delegate Count (Projection)
SHOT: FiveThirtyEight's model simulates the primary season thousands of times to find the most likely outcome for each candidate. The chart shows how many delegates, on average, each candidate is projected to have pledged to them at each point in the primary season, along with a range of possible delegate counts.
CHASER: A majority of the estimated 3,979 pledged delegates (1,990+) are needed to win the Democratic nomination on the first ballot. And it's true that, every four years, there's a spate of news reports about the possibility of a brokered convention, and it's just as true that it hasn't happened since 1952, when it took Adlai Stevenson three ballots to secure the nomination. Could it happen this time? Quite possibly.
Judge Judy Endorses Bloomberg
SHOT: Judge Judy (Sheindlin) appeared on The View and formally endorsed Michael Bloomberg in the Democratic Primary. During the show, a commercial she made in support of the Democratic candidate aired as well. endorsing former NYC mayor Michael Bloomberg for president: "There was no other voice for me other than a voice of someone who has experience in governance."
CHASER: Sheindlin, who had not previously shared any political stances before supporting Bloomberg, told the co-hosts that she's backing Bloomberg. This endorsement actually could register, as Judge Judy has been the top-rated daytime syndicated show for years, so her endorsement packs more of a punch than many other celebrities.
Castro Endorses Warren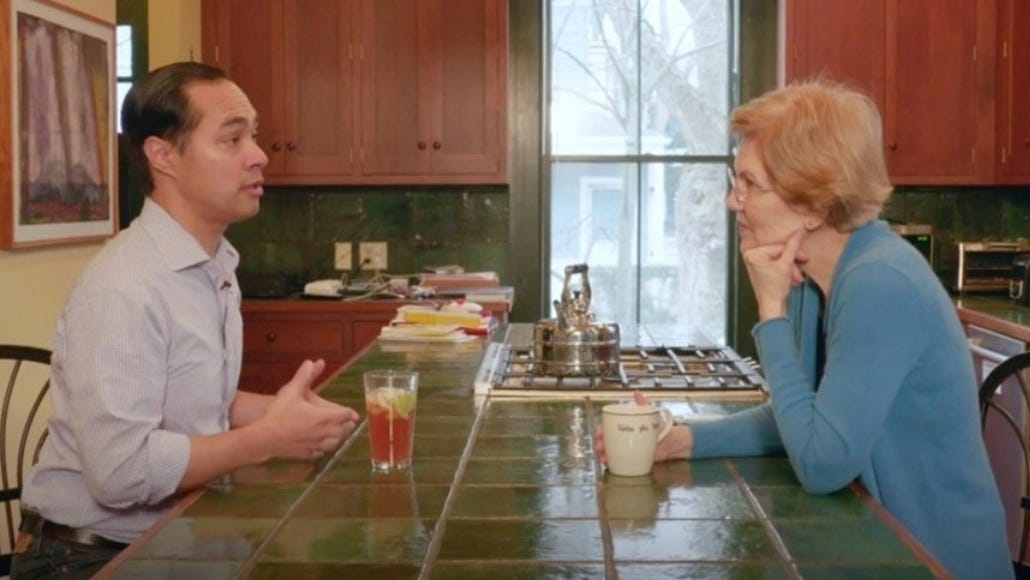 SHOT: Elizabeth Warren picked up a high-profile endorsement Monday when Julián Castro announced he was backing the Massachusetts senator for the Democratic presidential nomination, just days after Castro ended his own candidacy.
CHASER: It is unclear whether Castro's endorsement carries political weight at this point. His unfavorable rating outweighed his favorables, and his high-water mark in the overall polls was 2% - during the summer. His presidential candidacy struggled to break through in a significant way, but he led the field on a number of progressive issues, including reparations, border decriminalization and housing inequality. 
Steyer Surging?
SHOT: Billionaire Tom Steyer has qualified for next week's Democratic presidential debate on the strength of an apparent polling surge in two early-nominating states. Two Fox News polls released one day ahead of the qualification deadline, show Steyer in double-digits, moving past some top-tier candidates on his way to making the debate stage.
CHASER: Steyer is still polling at 4% nationally per Morning Consult, and 26% of poll respondents have never heard of him. It's a tough mountain to climb to break through the national consciousness with less than a month to go before primary season.
Garcetti Endorses Biden
SHOT: Los Angeles Mayor Eric Garcetti, who flirted with the idea of running for president but skipped the 2020 campaign, endorsed Joe Biden for the Democratic nomination Thursday. Garcetti, who will serve as a national campaign co-chair for Biden, had been courted widely by presidential candidates, and he has relationships with many of them.
CHASER: The endorsement is unlikely to have any practical effect on the highly competitive race. Though he is mayor of California's largest city, Los Angeles has also become synonymous with the state's housing crisis, a factor that would have worked against him had he mounted his own presidential campaign.
DAYS UNTIL 2020 PRESIDENTIAL ELECTION: 297
DPT 2020 ARCHIVES
January 3 (Happy New Year: Quick Recap on the Primary)
December 19 (Pelosi's Gambit Might be Genius)
December 5(Kamala Out! Bernie Ahead in California)
November 27 (Let's Talk Turkey)
November 20 (Reality Check)
November 8 (Bloomberg Enters the Race)
November 3 (One Year from Today: Road to White House)
October 25 (Who is still in the race and why?)
October 18 (AOC endorses Bernie, Debate IV Recap)
October 11 (Warren *almost* catches Biden; Hillary seeking Rematch?)
October 3 (Bernie's Heart)
September 27 (Impeachment: Candidates In Their Own Words)
September 19 (Polls, Polls, Polls)
September 13 (Debate 3 Power Rankings)
September 10 (Campaign Swag/Giveaway)
September 5 (Iowa Five Months Out)
August 29 (Back to School/Millennials + Gen Z)
August 22 (Inslee Drops Out; Steyer Spends Big)
August 15 (Gun Control Issue)
August 8 (The Impeachment Issue)
August 1 (Debates, Round 2) 
July 25 (The Social Media Issue) 
July 18 (The Fundraising Issue) 
July 11 (Steyer In, Swalwell Out)
July 4 (The Ancestry Issue) 
June 27 (Debates: Night 1 Power Rankings, Night 2 Preview)
June 20 (The Debate Issue) 
We genuinely appreciate you reading Dem Primary Tracker 2020. You can also 'like' our page on Facebook and follow us on Twitter & Instagram.